The Streamliner Flyback Chronograph was virtually launched by H. Moser & Cie. in January 2020, preceding the onset of the COVID-19 pandemic. Notwithstanding the exceptional conditions, the commencement was remarkably prosperous. The cushion-shaped case and integrated bracelet of the timepiece were well-received, as was the automatic movement which was developed by Agenhor, a collaborator of H. Moser & Cie.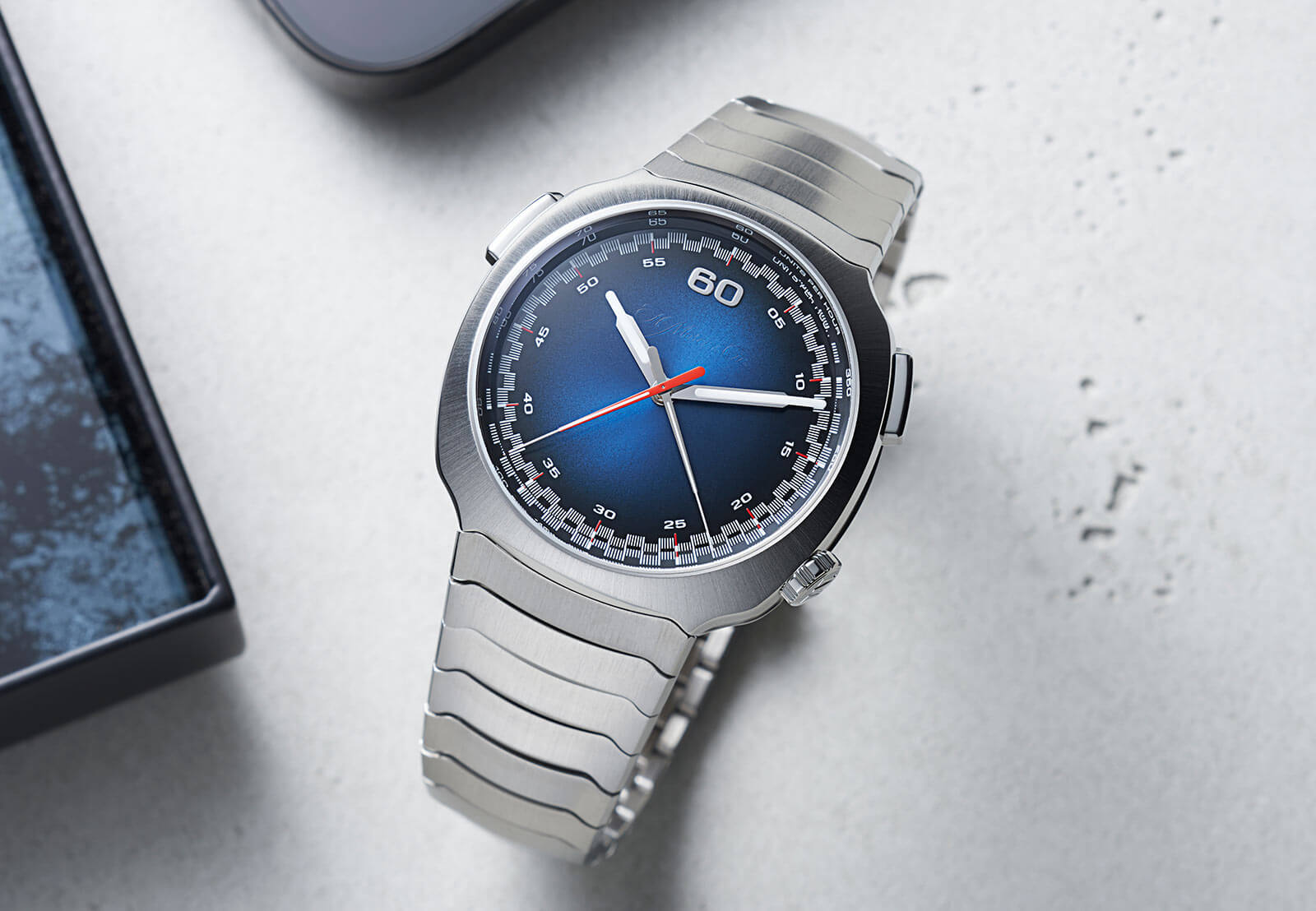 The Streamliner served as a catalyst for the advancement of the brand, expediting its growth and development. The Streamliner Flyback Chronograph Automatic was initially introduced as a limited edition of 100 pieces, which were promptly sold out within a matter of days. Following this, H. Moser & Cie. unveiled two new additions to the Streamliner collection, namely a three-hand model and a chronograph, both featuring a Funky Blue fumé dial.
The Streamliner case was utilized by the brand to unveil the perpetual calendar in 2021, which garnered significant acclaim. Subsequently, in 2022, the brand introduced the flying tourbillon with double hairspring. The current year sees the unveiling of the Streamliner Flyback Chronograph Automatic version 2.0 by the manufacturer located in Schaffhausen.
The H. Moser & Cie. brand has made significant strides with its Streamliner Flyback Chronograph Automatic Funky Blue 2.0 model, which builds upon the exceptional qualities of its previous chronographs while incorporating updated elements that are consistent with the brand's DNA. The Funky Blue fumé dial is noteworthy for its transparent lacquer logo, which serves as a subtle yet meaningful indication of the product's eminence. H. Moser & Cie. upholds its standing for simplicity, sophisticated grace, and subtle opulence, positioning the brand in the periphery as its innovations assume the spotlight.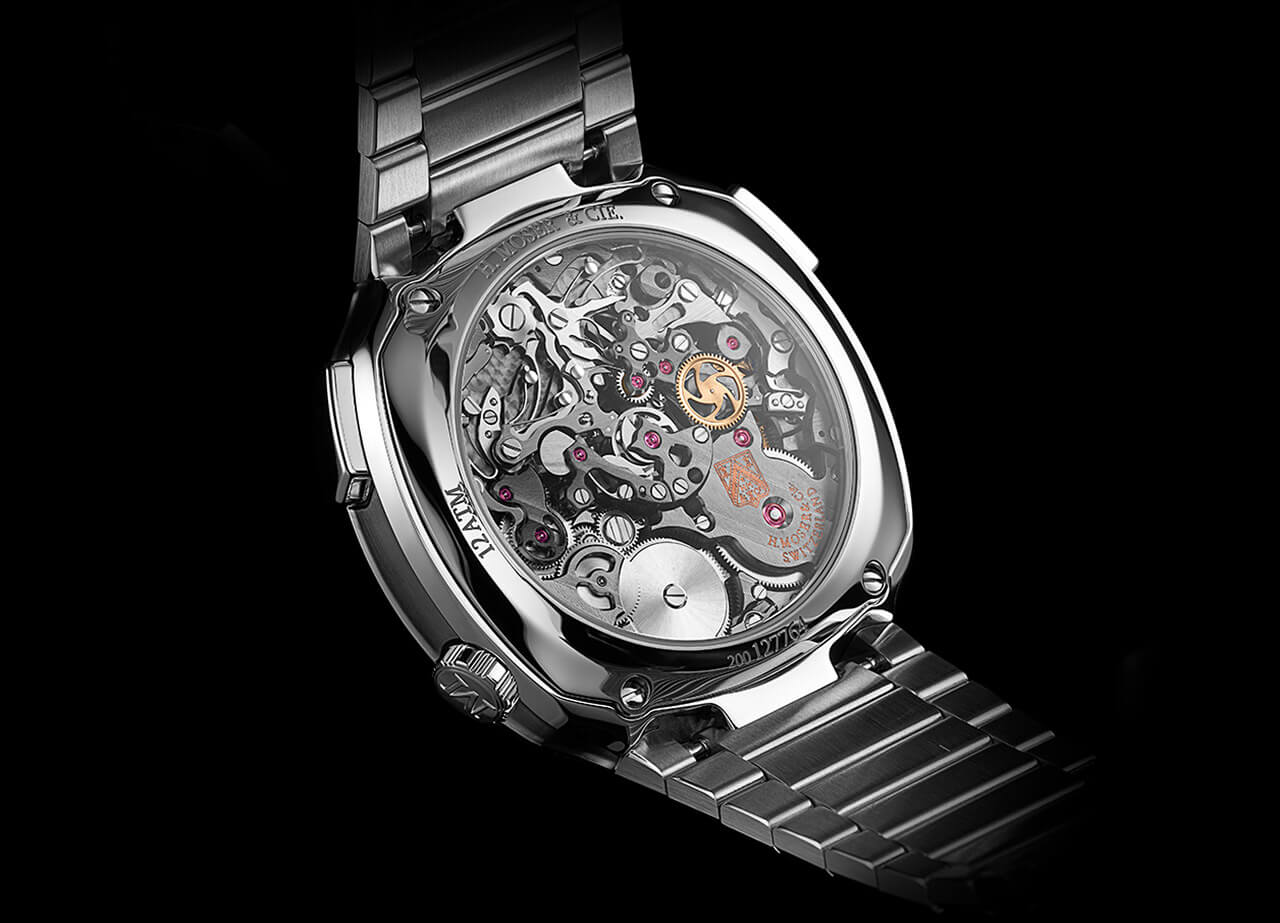 The Streamliner Flyback Chronograph Automatic Funky Blue 2.0 preserves its remarkable array of visual characteristics and operational capabilities. The timepiece exhibits a water-resistant capacity of up to 12 atmospheres, thereby establishing its dependability in both terrestrial and aquatic environments. The chronograph feature remains unaltered, providing adaptable timekeeping functionalities. The timepiece is crafted with a focus on aesthetic appeal, featuring a case that exhibits balanced proportions and streamlined aerodynamics, which seamlessly merge with its integrated steel bracelet.
Regarding its movement, this particular automatic chronograph showcases a central display and flyback capability for both minutes and seconds. The timepiece is furnished with a chronograph caliber of exceptional quality, which was created by AGENHOR, a reliable collaborator of H. Moser & Cie. The aforementioned caliber places emphasis on simplicity and readability, featuring a modern aesthetic with its sapphire case-back. The HMC 907 caliber showcases the classic Moser stripes, which are inclined at a 45° angle. Additionally, it features anthracite grey rhodium-plating on both the bridges and main plate. The oscillating weight has been positioned in a strategic manner between the movement and the dial, enabling enthusiasts to observe the operation of the chronograph and column wheel.